What Is Skin Rejuvenation and Is It For Me?
The Beautiful Image Facial & Body Sculpting System
Do you have fine lines and/or wrinkles on your face? Are some areas on your body no longer defying gravity as well? Do you struggle with stubborn cellulite? If you answered "YES" to any of these questions, then skin rejuvenation with my MICROCURRENT COSMETIC SYSTEM is just what you might be looking for!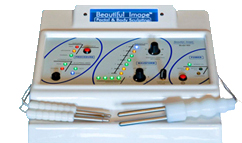 Special wands that deliver a gentle microcurrent to the cells of the skin treatment area are used to tighter and tone facial muscles and other areas of the body. Your skin is rehabilated, firmed, and pampered as as the microcurrents penetrate deep into the connective tissue of your face or body and restore the dimished production of collagen and elastin. Increased collagen and elastin mean decreased fine lines and harsh wrinkles. The treatments are painless and even relaxing!
You can expect:
•Revitalized skin tone and a more youthful appearance
•Diminished fine lines and wrinkles on forehead, neck and chest
•Firmer tummy, hips, buttocks and thighs
•Lifted, toned and tightened loose skin
•Tighter and firmer facial contours
•Smaller pore size
•Increased skin elasticity
•Lifted and toned jowl muscles
•Reduced cellulite
Check out my skin rejuvenation photo gallery!
You, too, can have NATURAL looking results at a FRACTION of the cost of cosmetic surgery! Noticeable improvements are seen with just ONE visit. The more treatments you get, the greater the results. Turn back time on aging by making your appointment for my skin rejuvenation treatment today.